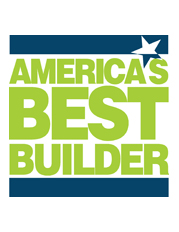 Grand Homes is proud to have won America's Best Builder, awarded by BUILDER magazine.... TWICE!
The prestigious award is judged by a panel of industry experts for overall achievement and excellence in all facets of home building, including finance and operations, design and construction, customer service and quality, community service and marketing.
"Most builders excel in just one discipline, be it customer service, great design, construction expertise, or financial acumen," said Denise Dersin, editor in chief of BUILDER magazine, the leading magazine of the home building industry. "But our America's Best Builder winners manage to do it all. That is an amazing achievement, and even more so during these difficult times." Read more on Grand Homes' designation of America's Best Builder here.